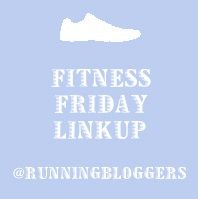 Hey y'all, it's that time again. I hope that your week has been a good one, but if not...it's almost over so cheer up. This week has been fantastic for me...it's been sunshine and warm weather, what's not to like! Make sure to go over and link u

p your FF post, just click on the blue box above.
Wednesday
Run 40 minutes for 480 cal

orie burn

Walk 10 minutes

for 39 calorie burn (warm up/cool down)
Thursda

y
Adaptive Motion Trainer 40 minutes for 50

3 calorie burn
Friday (

what I plan to do today)
Ad

aptive Motion Trainer 40 minutes
Did you notice that I changed the look of my blog? How do you like it? As you can probably tell, I get bored of the same thing after awhile and feel the need to constantly change

it

up. I do this with

a lot of

things in my life.

Here

are some examples of things I change up

more often than not...

my hair, makeup, clothes, Facebook cover, Blog, food

and even my exercise routine.
Exercise has to be fun, at least for me, or I get bored and start feeling unmotivated. Have you ever had this problem? I am going to assume yes I

know what that means

you have! We all go through those time where we are just plain bored with our fitness routine. That is a good time to change it up. Pick 4-5 exercises that you don't normally do, add them to your run

and see how it works out.
For example, on your next run try running for 10-20 minutes then stop and do 50 mountain climbers on a curb (away from traffic of course) then resume running for another 10-20 minutes, stop and do 50 jumping jacks or 20 pushups. It doesn't really matter what you do just do something different so that you don't get bored.

You could also

try cross training if you always run, studies show that it actually helps us runners stay injury free. I run 3x a week and cross train the other days. Cross training for me consists of working out on the Arc trainer

,

AMT or Bike trainer...and

I add in a little weight lifting too!
Happy Friday and enjoy your weekend. I will take the time to wish all you moms a Happy Mother's Day now a

s I'm not sure I'll be posting Sunday! May you have a wonderful day celebrating with your family and loved ones!
"Limitations only exist if you let them"
Godspeed...this comes from the Middle English expression "God spede (you)", a wish for success and fortune for one setting out on an enterprise, voyage, adventure, or travels. It may also mean good luck.
© 2013 Shannon M. King. This publication is the exclusive property of Shannon M. King and is protected under the US Copyright Act of 1976 and all other applicable international, federal, state and local laws. The contents of this post/story may not be reproduced as a whole or in part, by any means whatsoever, without consent of the author, Shannon M. King. All rights reserved.